Top Long Island Vein Doctors
Is Sclerotherapy Safe for Everyone in 2022?
Is a Sclerotherapy Session Safe for Everyone?
Sclerotherapy is among the safest vein treatments on the market. The injection technique was introduced in the United States in 1939 and has improved dramatically over the past three decades. The sclerosants, devices, and techniques have been perfected such that sclerotherapy is remarkably safe in 2022. Sclerotherapy doesn't require anesthesia or thermal energy and leaves no materials in the body. It's non-surgical, so bleeding and infection risks are incredibly low.
In addition, when you book a board certified vein doctor, they can use ultrasound technology to position sclerotherapy treatments with exacting precision. However, sclerotherapy isn't safe for everyone. A small number of patients are allergic to sclerosants. And some patients have medical conditions that preclude them from using sclerotherapy. Visit a reputable vein doctor to determine whether sclerotherapy is right for you.
Is Sclerotherapy the Safest Vascular Spider Vein Treatment?
Sclerotherapy is widely regarded as one of the safest spider vein treatments. Many of the risks with outdated vein treatments like bleeding, anesthesia complications, and infections, are eliminated with sclerotherapy. The incision site is the size of a small needle, unlike the large incisions used in vein stripping surgery.
However, the procedure is not 100% risk-free since vein specialists have different training. One risk is seeking treatment from someone other than a vein doctor. These vein "specialists" might lack the ultrasound technology to identify existing blood clots, connecting veins, or allergies before the procedure.
Another risk is choosing a vein specialist who is inexperienced with sclerosants. Sclerotherapy can be administered in liquid, foam, or premixed foam concentrations. An inexperienced vein specialist might mix the sclerosant incorrectly, which can create air bubbles or make the sclerosant less effective. They might also administer an accidental arterial injection, rather than a vein injection, if they don't use ultrasound guidance. Choose a trained vein doctor to avoid these possibilities.
Is Spider Vein Removal by Sclerotherapy Safer Than Surgery?
For most patients, spider vein removal by sclerotherapy is safer than surgery. Sclerotherapy doesn't technically remove spider veins from the body. It destroys them inside the body, so they're harmlessly eliminated. Sclerotherapy involves no large incisions, general anesthesia, or stitches, so the risks are negligible. Vein doctors inject sclerosants into veins to collapse them and prevent blood from flowing through. Blood is rerouted into healthy veins to restore circulation.
The process takes 15-30 minutes, and patients can resume their usual routine immediately afterward. As mentioned, some patients with sclerosant allergies or blood clots might not be eligible for sclerotherapy. With the number of safe spider veins treatment options, an allergic reaction is preventable. In most cases, these patients will be better suited to another minimally invasive treatment, like radiofrequency ablation, rather than vein surgery.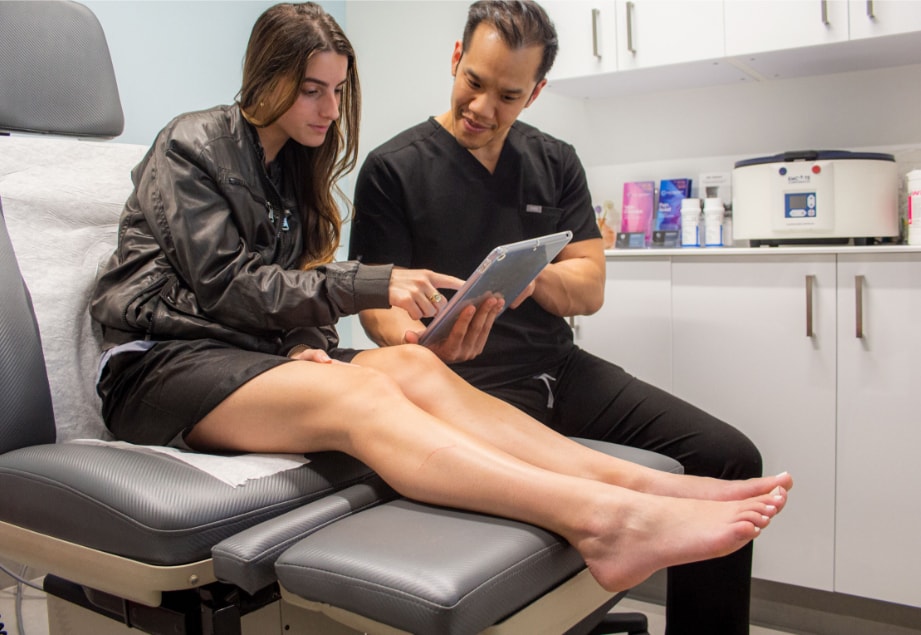 We know health insurance is confusing so we will help you check if you're covered:
By emailing or contacting us, you are accepting the inherent privacy limitations of online communication. For more information, please read our Digital Communications document. Please respond "STOP" to any text messages to opt out.
Is Sclerotherapy for Large Varicose Veins Considered Safe?
Varicose veins are larger and more twisted than spider veins. Sclerotherapy for large varicose veins is usually safe, but it's not always the best method. Sclerosants can be agitated to create a foam that fills larger veins without increasing the dosage. In many cases, this is the perfect solution. However, some large varicose veins are better suited to a different closure method like thermal energy or rotating catheters.
Doctors can close veins off with radiofrequency or endovenous lasers, if sclerosants aren't suited to the job. Or, they can use mechanochemical ablation, which employs a rotating catheter that disrupts the vein walls before releasing a sclerosant into the vein. Treating vein disease is often part of eliminating larger varicosities.
What About Sclerotherapy for Forehead Veins?
Spider veins and varicose veins that develop in the legs are often the result of Chronic Venous Insufficiency. When valves fail in deeper leg veins, blood flows in reverse, creating pressure that generates spider and varicose veins. Vein doctors must often use ultrasound guidance to treat the source of the spider or varicose vein, not just the surface damage.
When forehead veins bulge, the cause might be different. When blood pressure increases, (after a workout, hot shower, caffeine, etc.) veins bulge temporarily. Since the skin on your face is thinner than other areas, forehead veins are easy to see. But bulging forehead veins are rarely varicose. Spider veins, however, are quite common on the face. These often result from sun damage or skin injury, not venous insufficiency. For forehead veins, a shallow sclerotherapy injection or surface laser is often the best approach.
Is Sclerotherapy Safe for Varicose Veins on Black Skin?
Is sclerotherapy safe for all skin tones? Yes, however, hyperpigmentation is more common after treatment on darker skin, since an over-concentration of melanin produces hyperpigmentation. But new sclerosants are less prone to this outcome. The risk of hyperpigmentation is greatly reduced by choosing experienced vein doctors who use the latest sclerosants.
Is Sclerotherapy Always Advised for Collapsing Veins?
Sclerotherapy is commonly advised for collapsing veins. But it's not always the best method. Some patients' veins are better suited to radiofrequency ablation, endovenous laser ablation, vein adhesives, or mechanochemical ablation. And in rare cases, vein stripping surgery is required. Visit our Long Island vein doctors to determine your ideal treatment.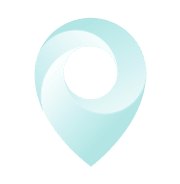 Visit Our Long Island Vein Treatment Center
Is Aspirin Good for Varicose Veins Instead of Sclerotherapy?
Aspirin does not treat varicose veins. Varicosities are typically caused by venous insufficiency when backward blood flow engorges a vein. Aspirin might thin the blood, so it's occasionally advised for patients with blood clots or deep vein thrombosis. But thinning the blood doesn't correct Chronic Venous Insufficiency.
In fact, it might create more build-up in veins with faulty valves. In addition, varicose veins are prone to profuse bleeding when nicked, since a valve that directs blood flow isn't closing. So, taking aspirin with varicose veins could be dangerous. Ask your vein doctor before trying medications for varicose veins. Never take aspirin before a vein treatment without your doctor's permission.
Sclerotherapy inserts a tiny needle through the skin. Vein doctors cleanse the skin above the treated areas and apply a topical numbing cream. Most patients either feel nothing, or a slight pinching sensation for a few seconds when treated veins collapse. Our patients praise our painless procedures and the resulting freedom from the pain caused by spider and varicose veins.
Are There Sclerotherapy Aftercare Instructions?
Many patients have no sclerotherapy aftercare instructions, but some will wear compression stockings for a while. Every patient who's able is encouraged to walk immediately after the procedure and resume their usual activities. There is no downtime with sclerotherapy. You can work, shower, and even exercise moderately the same day.
Who Provides Safe Sclerotherapy Near Me?
Looking for "safe sclerotherapy near me?" Look no further than our Harvard-trained, certified diplomates. Our vein doctors are renowned for safe, minimally invasive treatment. We offer several alternatives to vein surgery and always use the gentlest method possible. Choose Dr. Thomas Arnold or Dr. Zalekha Shair for safe varicose and spider vein treatment on Long Island.
Where is the Best Clinic for Sclerotherapy in My Area?
The best clinic for sclerotherapy in your area is one of our three Long Island clinics. Our doctors are highly trained and accept all major insurance plans to keep sclerotherapy costs low. In Jericho, visit us at 350 Jericho Turnpike. In West Islip, you'll find us at 500 Montauk Highway. And in Hampton Bays, we're located at 22 W Montauk Highway. Book an appointment at our Long Island vein clinics for safe sclerotherapy today!
Long Island
Vein Specialists
Meet your Long Island NY Vein Doctor
With Harvard Trained Medical Directors, our vein clinic Long Island sources only the top spider and varicose vein experts in the country.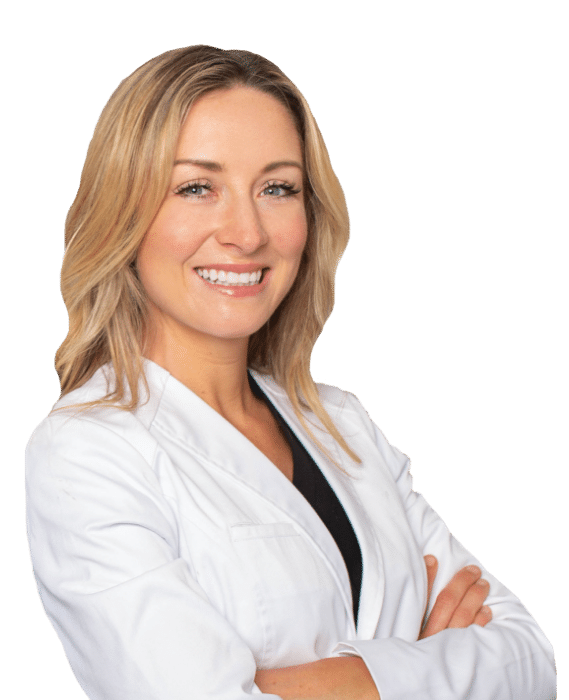 Join thousands of happy patients just like you
Vein treatments are often covered by major medical insurances, including Medicare. How do you know if your insurance will cover your vein treatment?

CALL US
Speak with one of our team members to ask any questions you may have, verify your insurance and book an appointment at your earliest convenience. (631) 305-2827

BOOK APPOINTMENT
You can give us a call at 631-305-2827 or fill out one of our forms here to request a call back; one of our team members will call you and help you verify your insurance coverage before booking your appointment.