Top Long Island Vein Doctors
What Can You Do to Reduce Varicose Veins as Soon as Possible?
What Can You Do to Reduce Varicose Veins Immediately?
To reduce the visibility of varicose veins immediately, most people resort to concealing them with long pants or long sleeves. But that's not so appealing during spring and summer, or on occasions where shorts or dresses are customary. To reduce the visibility of varicose veins quickly, the best solution is a minimally invasive procedure like sclerotherapy, radiofrequency ablation, vein adhesive, endovenous laser treatment, or mechanochemical ablation.
These rapid treatments are non-surgical, so patients are in and out of the office in under 30 minutes, and there are no large wounds, stitches, or scars, so others won't know you've had your varicose veins treated. It's a discreet, painless, swift way to eliminate unsightly varicose veins and put your best foot forward. Click HERE to schedule your treatment at our award-winning Long Island vein clinic.
How Quick Is Homeopathy for Varicose Veins in Legs?
Homeopathy is not approved by the FDA as a treatment for varicose veins. In addition, it is not held to any legal standards regarding quality, dose, purity, or added ingredients. Homeopathic supplements have not been tested for safety in vulnerable populations like the elderly, children, and people with chronic diseases or compromised immunity. Homeopathy will not change the appearance of varicose veins. At best, it might improve certain symptoms, but it could also worsen them or cause new symptoms to develop.
If you're considering homeopathy, consult a board certified vein doctor first. Veins are part of a large system of blood vessels that deliver oxygen and nutrients throughout the body and pump blood back to the heart. Veins are not something to take chances with, especially when the odds of homeopathic supplements improving your varicose veins symptoms are quite slim.
Instead, vein doctors can recommend lifestyle changes like wearing compression stockings, elevating your legs while resting, and changing your exercise and dietary habits, if needed, to reduce the pressure on your veins. In addition, they'll determine whether medical treatments are necessary to eliminate your varicose veins.
Should I Get My Varicose Veins Treated for Faster Results?
The quickest way to get results is to treat your varicose veins, not try various things with no proof of efficacy. While tactics like wearing compression stockings and avoiding sitting or standing for too long can reduce symptoms, these steps don't correct the underlying issue that's causing your varicose veins. If you want quick and lasting relief, book a minimally invasive procedure to eradicate varicose veins and vein disease once and for all.
Our Harvard-trained vein doctors use tiny needles and catheters to treat varicose veins through the skin, without general anesthesia. So you can head right back to work and resume your usual routine as soon as treatment is complete. Since there are no large wounds to heal, there is no need for downtime while you recover.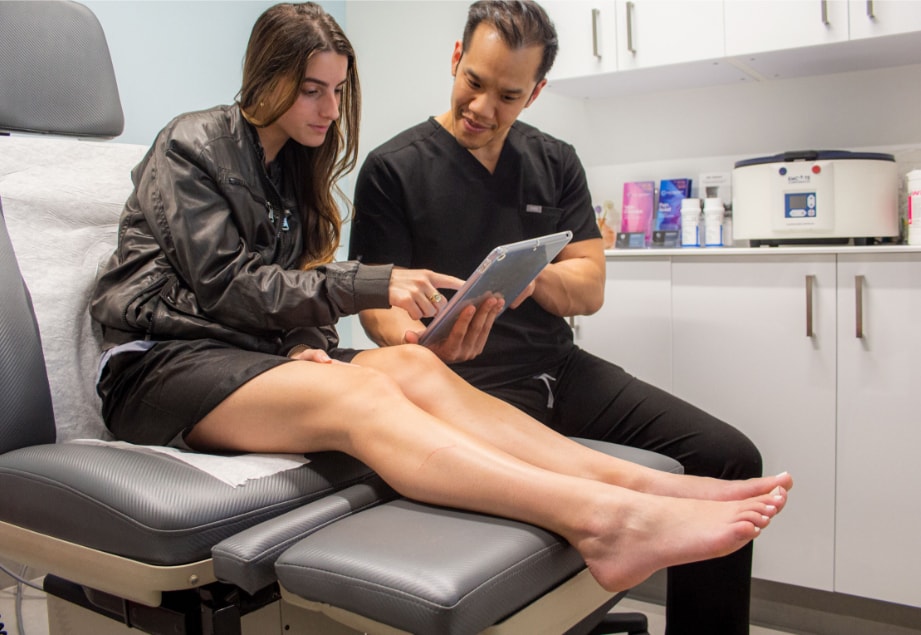 We know health insurance is confusing so we will help you check if you're covered:
By emailing or contacting us, you are accepting the inherent privacy limitations of online communication. For more information, please read our Digital Communications document. Please respond "STOP" to any text messages to opt out.
What's the Best Clinic for Varicose Veins to be Seen Soon?
One key to getting quick results is getting into the vein clinic soon! No matter how fast the treatment is, if you have to wait several months to get an appointment, results will obviously be delayed. It's helpful to choose a vein treatment clinic with more than one vein doctor and, preferably, multiple locations to expedite booking treatment for varicose veins.
Particularly if you're experiencing symptoms like venous ulcerations, venous stasis dermatitis, or bleeding that's hard to control, it's important to be seen quickly. But even "milder" symptoms like leg heaviness, swelling, cramping, restlessness, and itching can dramatically impact your quality of life. So, book varicose veins treatment soon by choosing a well-staffed clinic with several offices.
What's the Best Vein Treatment Clinic for Fast Results?
Our renowned vein specialists offer 3 convenient locations in West Islip, Jericho, and Hampton Bays, plus 2 additional locations close by in Midtown Manhattan and the Financial District. If you want to be seen soon, choose our vein clinic which offers several options to fit your schedule. Our vein doctors collaborate on care, so you're essentially getting the expertise of several Harvard-trained doctors by seeing just one. Our vein clinics have multiple physicians on staff, which makes it easier to be seen. Call us today to book your appointment for quick relief!
How Long Do Superficial Varicose Veins Take to Disappear?
Outdated surgical extraction techniques were notorious for a lengthy recovery time. But today's minimally invasive varicose veins treatments work by destroying the vein within the body, using tiny tools that target the vein walls directly. With these, there is no recovery period, no wounds to heal, and rarely any swelling. So, patients notice a difference right away.
The vein is destroyed immediately upon treatment, and then shrinks from sight over the next week or two. Techniques like sclerotherapy and radiofrequency ablation work quicker than more invasive measures like ambulatory phlebectomy or traditional vein stripping. So, choose a vein specialist who's trained in less invasive measures for faster results.
What Happens If Varicose Veins Are Left Untreated?
If you ignore varicose veins, there are a range of potentially detrimental outcomes. While some varicose veins remain asymptomatic, others develop symptoms like swelling, cramping, heaviness, and restlessness when you try to sleep. Advanced cases can produce slow-healing wounds, venous eczema, and bleeding that is tough to control. In addition, varicose veins are a sign that issues like Chronic Venous Insufficiency and blood clots are involved, so it's important to rule out these potentially serious conditions.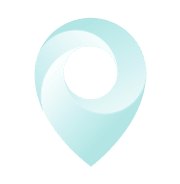 Visit Our Long Island Vein Treatment Center
Do Varicose Veins Cause High Blood Pressure If Untreated?
Varicose veins often stem from elevated pressure in a vein, which occurs when valves in the veins fail (Chronic Venous Insufficiency), causing blood to flow in reverse. Hypertension, which refers to high blood pressure in the arteries (not the veins), is a different condition. However, veins and arteries work in tandem. Arteries pump blood from the heart, and veins pump it back to the heart. Research is underway to determine how pressure in the arteries affects pressure in the veins and vice versa. Many patients suffer from both conditions, so seeking treatment for one might be essential to fully resolve the other.
Does High Blood Pressure Cause Varicose Veins to Form?
As mentioned, high blood pressure in the arteries and high blood pressure in the veins aren't the same thing, and one issue can occur without the other. When valves in the veins fail, pressure builds in veins, forcing bulging varicose veins or clusters of spider veins to appear. Arteries have no valves, so the malfunction in those usually stems from narrowing of the arteries, as occurs with aging, obesity, and certain drugs, medications, and diseases.
High blood pressure in the arteries (hypertension) is not the direct impetus for varicose veins. Elevated pressure in veins causes varicosities. But ignoring hypertension is unsafe for many reasons, including the fact that arteries and veins must work together for optimal circulation. So, taking steps to reduce blood pressure in the veins and arteries when needed is important for your vascular health.
What Can I Do to Prevent More Varicose Veins in the Future?
What can you do to reduce varicose veins now, as well as in the future? See a board certified vein specialist. Not only do they provide treatments that last, but they can also identify and treat the cause of varicose veins, so you aren't subject to ongoing varicosities. Some patients think a varicose vein has returned after treatment, when in fact, they've developed a new varicose vein because their previous vein clinic failed to address the causative issue. A properly treated vein won't return, so choose our renowned vein experts for quick treatments that last and the prevention of new varicose veins.
Long Island
Vein Specialists
Meet your Long Island NY Vein Doctor
With Harvard Trained Medical Directors, our vein clinic Long Island sources only the top spider and varicose vein experts in the country.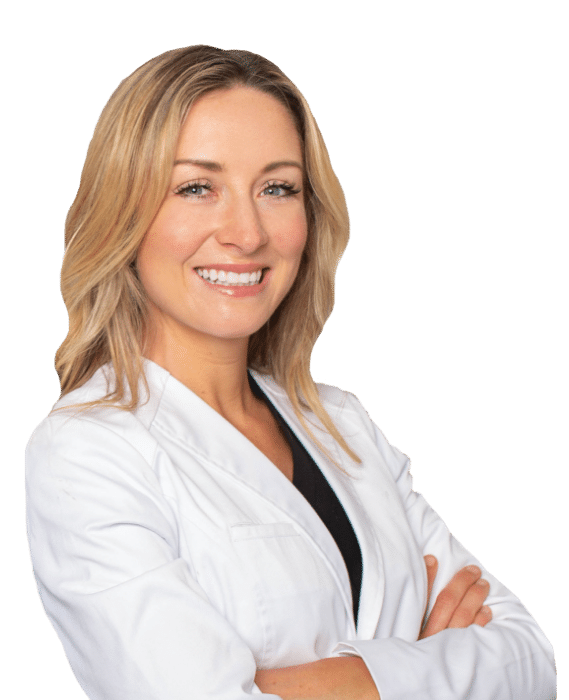 Join thousands of happy patients just like you
Vein treatments are often covered by major medical insurances, including Medicare. How do you know if your insurance will cover your vein treatment?

CALL US
Speak with one of our team members to ask any questions you may have, verify your insurance and book an appointment at your earliest convenience. (631) 305-2827

BOOK APPOINTMENT
You can give us a call at 631-305-2827 or fill out one of our forms here to request a call back; one of our team members will call you and help you verify your insurance coverage before booking your appointment.