Top Long Island Vein Doctors
What Effect Does Sclerotherapy Have on Varicose Veins?
How Effective Is Sclerotherapy for Varicose Veins?
Sclerotherapy is highly effective for varicose veins. Sclerosants come in multiple formulas: liquid, foam, and premixed foam. The right formula depends on the size and tortuosity of the vein, and they are combinable with other modalities. In addition, varicose veins are more twisted than healthy veins, and sclerosants navigate twists and turns more easily than certain treatments.
Sclerotherapy can also eliminate issues in deeper veins, like vein disease and broken valves that cause surface damage to appear. If you have varicose veins, book an appointment at our award-winning Long Island vein clinic today. Our Harvard-trained vein doctors are the preeminent sclerotherapy experts on Long Island.
Are Green Veins Good or Bad: Which Veins Need Sclerotherapy?
How do you know if your blue, red, purple, or green veins are good or bad? Beneath the skin, blood and veins are red. But veins are viewed through a filter of yellow fat and the pigment of skin, so veins can present in various colors. People with cool undertones often have veins that look more blue or purple, while veins in darker skin with warm undertones often appear deeper blue or green.
A green vein is not necessarily unhealthy, unless there is a change in its structure. Is it enlarged, twisted, and bulging beneath the surface of the skin? It might be a varicose vein. Red, blue, and purple veins might be healthy, but if you develop a new blood vessel with a central point and several tiny offshoots, it might be a spider vein. Both spider veins and varicose veins are unhealthy blood vessels that can be treated with sclerotherapy.
Do Spider Veins Ever Go Away Without Sclerotherapy?
Spider veins occasionally fade over time, particularly if they were caused by hormonal changes like pregnancy. But when a spider vein or varicose vein develops in the legs, it's usually caused by Chronic Venous Insufficiency and won't disappear without treatment. This disease will cause varicose veins and spider veins to persist and proliferate over time. See a vein doctor to determine whether your spider vein requires treatment, or whether it might fade on its own. If spider veins, varicose veins, or Chronic Venous Insufficiency run in your family, you are likely to have persistent vein damage until you address the underlying cause.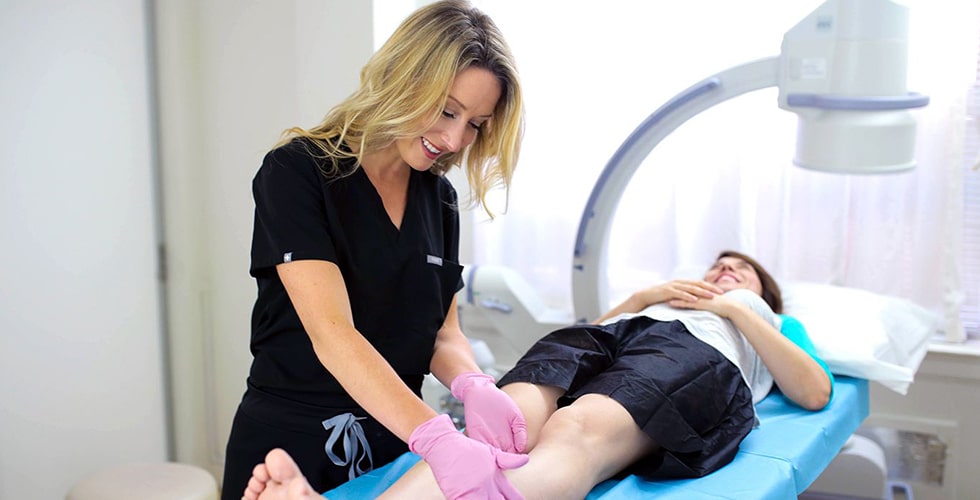 We know health insurance is confusing so we will help you check if you're covered:
By emailing or contacting us, you are accepting the inherent privacy limitations of online communication. For more information, please read our Digital Communications document. Please respond "STOP" to any text messages to opt out.
Is Sclerotherapy the Best Technique for Collapsing Veins?
Sclerotherapy is regarded as a first line of treatment for collapsing veins. It requires no anesthesia and it's non-surgical, so it's safer, gentler, and faster to administer. Veins are injected through the skin. So, the injection site is the size of the needle. There are no wounds to close or monitor for bleeding or infection. Sclerotherapy takes less than 30 minutes, so it's an outpatient procedure that patients can fit into their busy schedule. There's no downtime and no aftercare, other than some patients needing to wear compression stockings for a few days or weeks afterward.
Is Sclerotherapy Advised for Varicose Veins on Black Skin?
Sclerotherapy is advised for patients of all skin tones. Older sclerosants posed a risk of hyperpigmentation on the skin in the treated area. These included dark spots or streaks that typically resolved a few weeks or months after treatment. The incidence was higher in people with black skin, since over-concentrated areas of melanin create hyperpigmentation.
But newer sclerosants are less likely to cause hyperpigmentation near treated veins, since they aren't as irritating as older sclerosing solutions. Qualified doctors with high-quality sclerosants are better at preventing discoloration. Sclerosants are less likely to cause skin discoloration on darker skin tones than surface lasers.
Are There Indications for Varicose Vein Surgery Instead?
Sclerotherapy isn't the only option for varicose vein treatment. Some patients are better suited to thermal procedures like radiofrequency ablation or endovenous laser therapy. Other veins are ideal for vein adhesives or mechanochemical ablation, which is a two-pronged approach for larger varicose veins.
A few patients require surgery for varicose veins, but this is increasingly rare. Indications for varicose vein surgery are blood clots and severely tortuous veins. Ask our Long Island vein doctors which treatment is right for you. They're experts at selecting and explaining the optimal procedure for your veins.
Do Varicose Veins Always Vanish in Vein Clinic Procedures?
If the doctor is qualified and the procedure is chosen correctly, varicose veins will vanish and not return. However, some vein clinics aren't equipped to treat varicose veins or the underlying cause, so their treatments are temporary at best. Varicose veins typically result from CVI, so treating that is required to eliminate varicosities permanently. Patients with vein disease will develop more damaged blood vessels if that issue goes untreated. Cosmetic procedures for facial spider veins are ineffective against varicose veins in the legs. Choose a medical clinic for veins to make varicose veins vanish forever.
Will My Skin Get Bruised by Varicose Vein Treatment?
Bruising is uncommon but possible with varicose vein treatment. Sclerotherapy has such a tiny injection site that impact to the skin is negligible. But if the needle is inserted roughly, or the patient is prone to bruising, this reaction is possible. It's a temporary discoloration that resolves in a couple of days, much like bruising when your blood is drawn.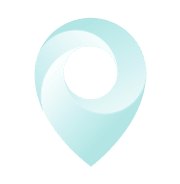 Visit Our Long Island Vein Treatment Center
How Costly is Sclerotherapy on Long Island?
Sclerotherapy is covered by most major insurance plans, as long as you meet their requirements. Eligibility varies by plan, but they seek evidence of things like leg pain or swelling, an impact on your lifestyle, bleeding, ulcers, dermatitis, or venous insufficiency. The best way to get coverage for sclerotherapy is to choose a board certified vein doctor. Dermatological and cosmetic vein clinics primarily administer elective vein treatments, so they rarely accept insurance. Vein doctors have the ultrasound technology to prove valve dysfunction and disease in deeper veins that make vein treatment medically necessary.
Does Blue Cross Blue Shield Cover Varicose Vein Treatment?
Yes, Empire Blue Cross Blue Shield covers varicose vein treatment, providing you meet their requirements. They are part of a medical task force seeking to improve the health care experience for patients and make fees more transparent and universal. They recently launched an initiative to reduce the hassle of getting prior approval for varicose veins that need treatment. They also partner with Medicaid and Medicare for $0 copays in many cases.
Is There Kaiser Permanente Varicose Vein Treatment Coverage?
Kaiser Permanente is a medical consortium that also has their own health insurance plans. Since theirs is a fusion of specialties, ask our insurance specialists for help deciphering their coverage. Our team is remarkably successful at acquiring complete coverage for varicose veins.
Is BCBS or Kaiser Spider Vein Treatment Coverage Complete?
Yes, for many patients who have insurance from companies like Blue Cross Blue Shield, Kaiser, Aetna, Cigna, TRICARE, Medicaid, and Medicare, coverage is complete. Our doctors will help you fill out any forms, including symptom profiles, and verify the presence of varicosities and vein disease to guarantee your coverage.
We will also fit you for compression stockings if your plan requires you to try those for a few weeks or months before covering your procedure. Do not try over-the-counter anti-inflammatory drugs or compression stockings without consulting a vein doctor first. For many patients, these are ineffective or dangerous, particularly when the size or dosage is not selected by a doctor.
Who's the Top Nerve and Vein Doctor for Sclerotherapy Near Me?
The top vein doctors for sclerotherapy near you are Dr. Thomas Arnold and Dr. Zalekha Shair. These award-winning vein specialists are Ivy-League-trained and board certified in multiple fields. Dr. Arnold specializes in minimally invasive procedures like sclerotherapy and is also trained in vascular surgery for patients who need it. He has over 25 years of experience treating veins.
Dr. Shair is a multilingual Long Island native known for her compassionate, gentle approach with patients and outstanding treatment results. What effect does sclerotherapy have on varicose veins at our clinic? If it's the treatment we recommend for you, it will eliminate them for good! Visit our renowned team today for world-class sclerotherapy treatments.
Long Island
Vein Specialists
Meet your Long Island NY Vein Doctor
With Harvard Trained Medical Directors, our vein clinic Long Island sources only the top spider and varicose vein experts in the country.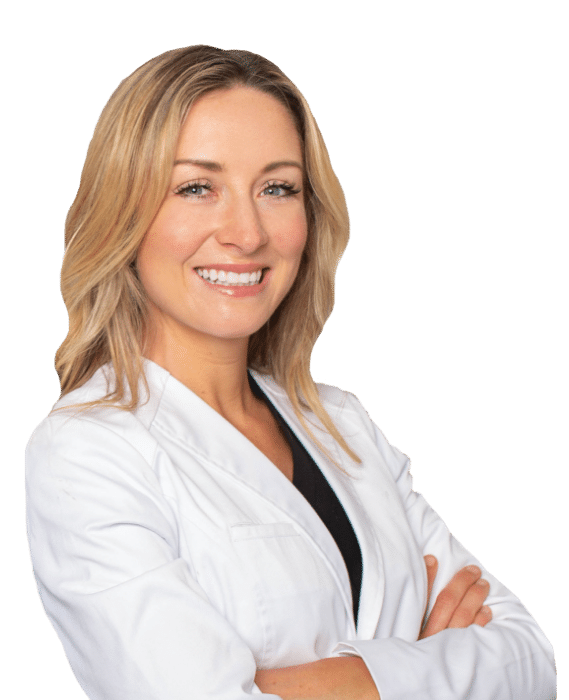 Join thousands of happy patients just like you
Vein treatments are often covered by major medical insurances, including Medicare. How do you know if your insurance will cover your vein treatment?

CALL US
Speak with one of our team members to ask any questions you may have, verify your insurance and book an appointment at your earliest convenience. (631) 305-2827

BOOK APPOINTMENT
You can give us a call at 631-305-2827 or fill out one of our forms here to request a call back; one of our team members will call you and help you verify your insurance coverage before booking your appointment.