Top Long Island Vein Doctors
How to Stop Varicose Veins from Developing and Worsening
How Do I Stop Varicose Veins from Forming?
Varicose veins are common in adults, particularly in women. There are several factors that contribute to varicose veins, some of which aren't preventable. These include family history, gender, hormonal changes, and aging. But there are other causative factors we can minimize the impact of. These include obesity, sedentary lifestyles, smoking, birth control usage, and professions where we sit or stand for long periods of time. In addition, a common disease called Chronic Venous Insufficiency (CVI) causes many spider and varicose veins. This is treatable by a qualified vein doctor.
Book an appointment with Harvard-trained vein doctors on Long Island to reduce your development of varicose veins. One way they do this is by addressing CVI, and closing off broken valves in the veins that allow blood to flow in reverse. When blood flows backward, it builds pressure in the vein, causing it to swell and twist into a varicose vein. Our award-winning doctors can resolve this within minutes, without surgery. We administer treatment directly to the walls of the veins to close them off rather than cutting them out. We can also advise you on lifestyle changes to reduce CVI symptoms and the likelihood of accumulating more spider or varicose veins.
How Can I Avoid Broken Capillaries in Feet, Hands, and Face?
There are three main types of blood vessels: arteries, capillaries, and veins. Arteries pump blood away from the heart. Capillaries transfer blood to veins. Veins pump blood back to the heart. This process of blood circulation delivers oxygen and nutrients to cells throughout your body. Capillaries are smaller than arteries, and often closer to the surface of the skin.
They can be impacted by internal things like vascular disease. But they often stem from external impacts like surface injuries, freezing winds, excessive sun exposure, alcohol consumption, and diseases like rosacea.
You can't completely prevent certain causes of broken capillaries, like diseases and injuries. But you can take better care of your skin when you're in hot and cold weather You can also be gentler with your skin. For instance, wear sunscreen and avoid squeezing pimples and using harsh exfoliants. Fortunately, broken capillaries in your feet, hands, or face are easy to treat. Visit our renowned vein clinics for quick resolution of unsightly blood vessels.
How Do I Treat Veins Bulging on Side of Head or in Legs?
In certain areas of the body, it's common to see bulging veins, even if the veins are healthy. One such place is the forehead. The skin on the forehead is thin, and there is very little fat. This makes it easier to see veins when they expand. Veins are designed to stretch to accommodate changes in blood pressure. If you take a hot shower, exercise, or experience stress, your blood vessels expand temporarily. They often shrink down when the impetus is removed. If you have bulging veins on the side of your head, they might not be varicose. See a doctor to find out.
When leg veins bulge, they might be healthy, but they're more likely to be varicose. Legs have more layers of fat, so leg veins that bulge at the skin's surface are often larger than normal. Visit our caring team for a quick analysis of your veins. The sooner you treat varicose veins, the better the outcome will be. If your veins are healthy, you might still be eligible for treatment.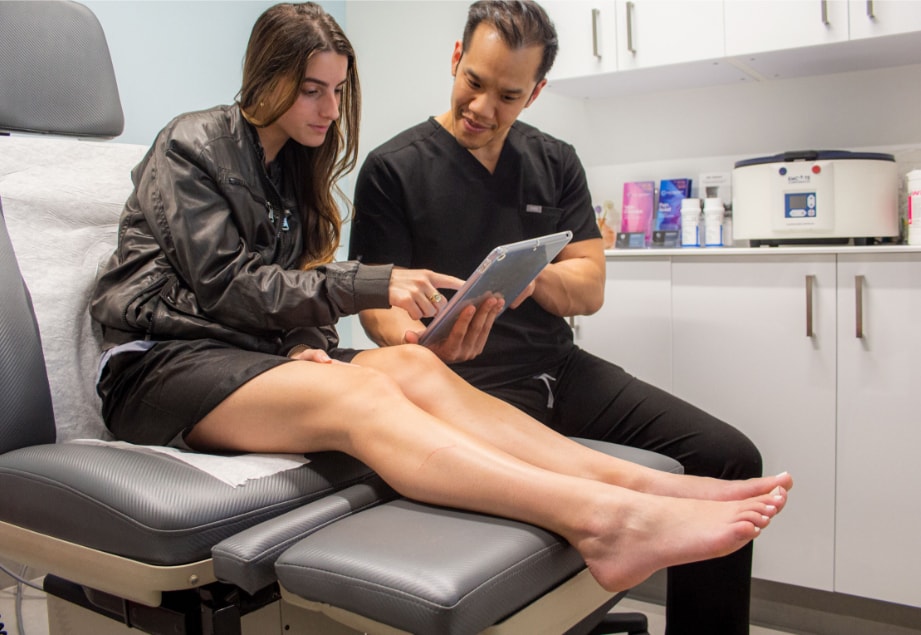 We know health insurance is confusing so we will help you check if you're covered:
By emailing or contacting us, you are accepting the inherent privacy limitations of online communication. For more information, please read our Digital Communications document. Please respond "STOP" to any text messages to opt out.
Are All Bulging Green Veins Good or Bad? How Can I Tell?
Some people are alarmed by the color of their veins. Blue, purple, and green veins can all be normal depending on your skin tone. The better clue is if the vein looks more boldly colored than others. This signifies that it is being pressed closer to the surface of the skin.
In addition, if the bulging vein is twisted, protuberant, or larger than others, it might be a varicose vein. According to The National Heart, Lung, and Blood Institute, symptoms like cramping, itching, swelling, achiness, discoloration, or heaviness in your legs indicate that a vein might be varicose. These symptoms are signs of CVI, which produces the majority of varicose veins in legs.
Do Bumps in Arm Veins or Leg Veins Require a Vein Consult?
Bumpy veins and singular bumps in veins are different. When a vein looks bumpy along the entire length, it's probably varicose. These veins are tortuous, so they bump up against the skin in multiple areas. If you have a single bump in a vein, it could be varicose, but it's important to rule out a blood clot.
Some blood clots can't be seen from the surface of the skin. But when they present at the surface, they appear as an individual raised area that's warm and red. This requires immediate medical attention. Blood clots can resolve, but they can also cause a deep vein thrombosis if they travel to the lung.
Which Specialist Treats Varicose Veins on Long Island?
If you're wondering how to stop varicose veins, see a vein specialist. These include vein doctors, phlebologists, and vascular surgeons. Skip the dermatologists and cosmetic surgeons. Many of them only perform the most superficial treatments, which don't address underlying causes like CVI. That results in ongoing proliferation of spider and varicose veins.
Where Can I Get My Varicose Veins Removed?
You can get varicose veins removed at any of our award-winning Long Island vein clinics. We have offices in West Islip, Jericho, Hamptons, and Port Jefferson. All of our vein clinics are accredited and run by board certified vein doctors. We remove varicose veins non-surgically, eliminating general anesthesia, hospitalization, and downtime.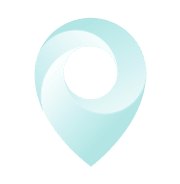 Visit Our Long Island Vein Treatment Center
How Should I Remove Varicose Veins on Black Skin?
Some patients with Brown or Black skin are concerned about skin discoloration from vein treatment. Certain surface lasers cause skin lightening on darker skin or skin darkening on lighter skin in rare cases. But newer laser treatments are less likely to cause this. In addition, surface lasers are rarely the best treatment for varicose veins, and there are several alternatives.
Our doctors can use lasers endovenously too, not just at the surface. This means thermal energy is applied to the vein, not the skin, eliminating discoloration altogether. For most varicose veins, our doctors use radiofrequency, sclerotherapy, vein adhesives, or mechanochemical ablation, not surface lasers.
What's the Best Varicose Vein Treatment Clinic Near Me?
The best varicose vein treatment clinic near you is one that's accredited and minimally invasive. Accreditation by the IAC means the clinic has passed an extensive review of their doctors, procedures, and facilities. Very few vein clinics achieve this. It's important to choose a minimally invasive vein clinic because vein surgery has been largely replaced by gentler methods. Minimally invasive doctors will prevent unnecessary surgery.
Which Vein Place Treats Spider Veins Plus Varicose Veins?
If you have spider veins plus varicose veins, you need a medical vein clinic. The presence of both types of vein damage means you likely have CVI. This disease is not treated by cosmetic vein specialists. Vein doctors use ultrasound guidance to detect and treat this disease, as well as any existing vein damage. Treating CVI is a crucial part of how to stop varicose veins from forming.
For Veins to Vanish Is Vein Clinic Treatment Required?
If your doctor approves, you can try symptom relief through compression stockings, elevating your legs, and trying not to sit or stand for long periods. But these measures won't remove spider or varicose veins. For veins to vanish, vein clinic treatment is typically required. The good news is vein treatments only take 15-30 minutes, unlike lifestyle adjustment which might require lifelong adherence.
Long Island
Vein Specialists
Meet your Long Island NY Vein Doctor
With Harvard Trained Medical Directors, our vein clinic Long Island sources only the top spider and varicose vein experts in the country.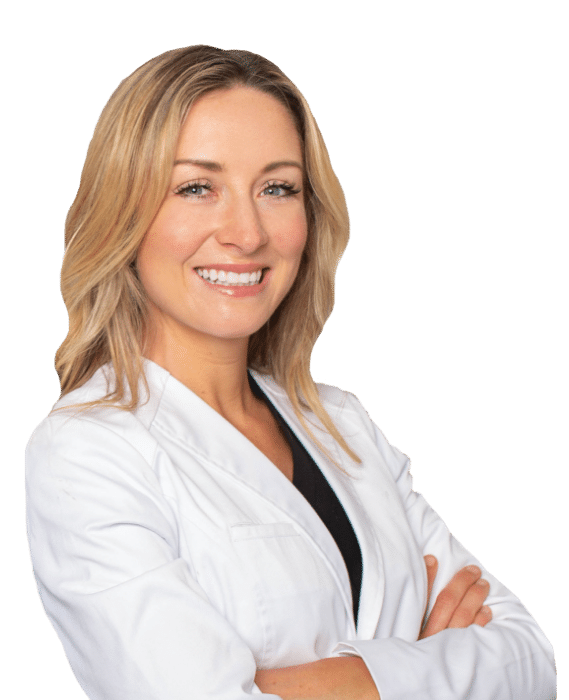 Join thousands of happy patients just like you
Vein treatments are often covered by major medical insurances, including Medicare. How do you know if your insurance will cover your vein treatment?

CALL US
Speak with one of our team members to ask any questions you may have, verify your insurance and book an appointment at your earliest convenience. (631) 305-2827

BOOK APPOINTMENT
You can give us a call at 631-305-2827 or fill out one of our forms here to request a call back; one of our team members will call you and help you verify your insurance coverage before booking your appointment.