Top Long Island Vein Doctors
What Is the Best Treatment for Venous Insufficiency on Long Island?
Do I Have Chronic Venous Insufficiency?
Chronic Venous Insufficiency (CVI) is very common, but many people don't know they have it or even know what it is. The underdiagnosed disease involves valve failure in deeper veins that allows blood to flow in reverse. This venous reflux builds pressure inside the vein, causing varicose veins to bulge and contort, and spider veins to branch out from the overburdened vein. It also causes a host of unpleasant or even debilitating symptoms. Book an appointment with Harvard-trained CVI experts on Long Island or read on to learn about venous insufficiency.
Symptoms of Chronic Venous Insufficiency Include:
Varicose veins
Spider veins
Crampy, achy legs
Heaviness in the legs or feet
Leg swelling
Flaky, leathery skin
Reddish-brown skin discoloration
Burning, tingling skin
Restless legs at night
Hardened skin
Venous stasis dermatitis
Venous ulcers
Do Bulging Red, Purple, Blue, or Green Veins Signify CVI?
When red, purple, blue, or green veins become enlarged and protuberant, it's a signal to see a vein doctor. Sometimes veins bulge for other reasons, for instance, when blood volume increases from pregnancy, high temperatures, or a strenuous workout. But if the vein remains enlarged and protuberant, particularly if you have any of the symptoms above, there's a good chance it's caused by CVI.
The backward blood flow that occurs with venous insufficiency forces veins to swell and twist to accommodate the excess blood. These become the varicose veins you see at the surface. Bulging veins that are larger and more tortuous than the veins around them are often varicose, and typically linked to CVI. Our award-winning Long Island vein doctors can quickly determine if you have CVI, and they treat it in under 30 minutes.
Do Varicose Veins Cause High Blood Pressure and CVI?
What causes high blood pressure in the vein and CVI? It's important to note that high blood pressure in veins and high blood pressure in arteries (hypertension) are two different things. Arteries pump blood away from the heart, while veins pump blood back to the heart. Since leg veins must work against gravity, they're lined with tiny valves that close once blood passes through to keep it moving upward. When valves fail, blood flows in reverse, elevating pressure in the vein.
This endovenous blood pressure is the impetus for varicose veins. Varicose veins do not directly cause high blood pressure in the arteries (hypertension). Many patients have endovenous high blood pressure, as well as arterial high blood pressure, but they are two separate conditions. Lifestyle adjustments like losing weight, exercising, and avoiding sitting or standing for long periods help both conditions, since they're both disorders of the circulatory system.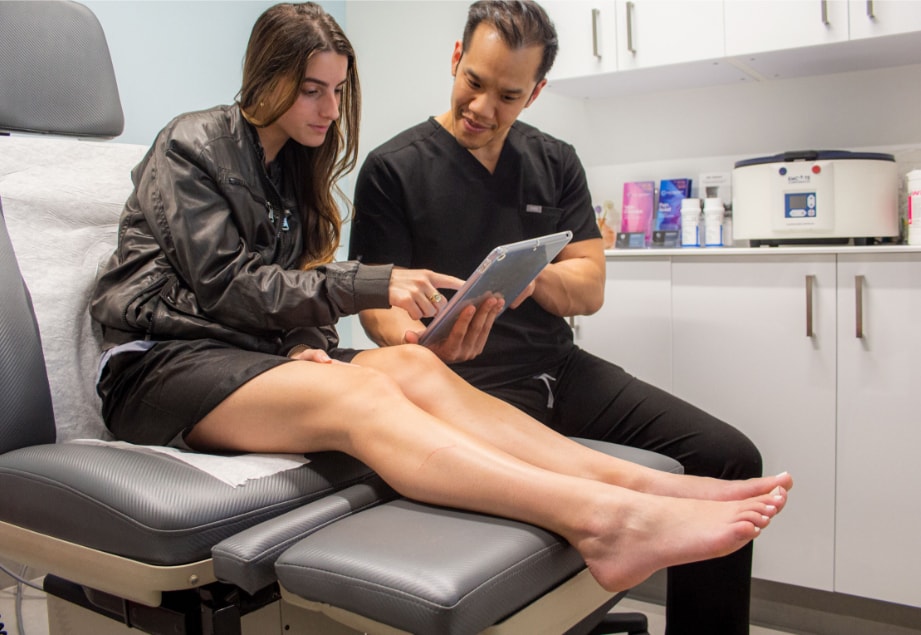 We know health insurance is confusing so we will help you check if you're covered:
By emailing or contacting us, you are accepting the inherent privacy limitations of online communication. For more information, please read our Digital Communications document. Please respond "STOP" to any text messages to opt out.
Does High Blood Pressure Cause Varicose Veins and CVI?
High blood pressure in veins, not arteries, causes varicose veins and CVI. If your doctor diagnoses you with hypertension, they're most likely referring to high blood pressure in the arteries. Arteries do not suffer valve failure or become varicose, like veins do. High blood pressure in arteries stems from things like aging, smoking, disease, and certain medications, not CVI. Hypertension, varicose veins, and CVI all impair your circulation, but they are three distinct issues.
How Does the Best Clinic for Varicose Veins Treat CVI?
The best clinic for varicose veins is one that also identifies and treats Chronic Venous Insufficiency. The disease is the cause of most varicose veins. So, if you only treat the superficial vein damage and ignore the valve failure in deeper veins, more problems will arise. Choose minimally invasive vein specialists who use Duplex Ultrasound and non-surgical tactics to identify valve problems and vein disease. It's the best way to make sure your varicose veins treatment works indefinitely.
Should I Get My Varicose Veins Treated If I Have CVI?
If you have varicose veins that stem from venous insufficiency, you must treat both for complete relief. CVI will progress and cause worsening symptoms if you ignore it, so don't settle for surface vein treatments. Our world-renowned vein doctors treat varicose veins, spider veins, and CVI in 15-30 minutes with a minimally invasive procedure. You won't need general anesthesia, hospitalization, surgery, or recovery time with our team of vein specialists. Avoid the cosmetic vein clinics and choose board certified vein doctors for successful treatment of venous insufficiency.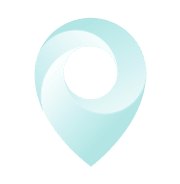 Visit Our Long Island Vein Treatment Center
Do I Need a Leg and Vein Doctor to Remove Varicose Veins?
Unlike facial vein damage, unhealthy leg veins are usually caused by CVI. You can try compression therapy or elevating your legs while at rest to reduce varicose vein symptoms. But most people need a vein doctor to treat varicose veins for comprehensive relief. The great news is your vein doctor won't necessarily need to "remove" your varicose veins.
Most patients are now better suited to a minimally invasive procedure like sclerotherapy, radiofrequency ablation, endovenous laser therapy, vein adhesives, or mechanochemical ablation. Don't delay vein treatment because you fear surgery. There's a strong likelihood the vein doctor won't surgically extract your vein.
Do I Need a Vein Treatment Clinic for Venous Insufficiency?
Just like varicose veins, CVI usually requires a vein specialist's treatment in order to relent. Home treatments like compression socks will only reduce leg swelling and cramping temporarily in some patients. Other patients are advised against wearing them, particularly if they have certain medical conditions. The disease is persistent but it's easy to treat, if you choose the right vein doctor.
Our team uses Duplex Ultrasound technology to find broken valves and diseased veins, so we often treat both in a single appointment. You can visit our vein treatment clinic during your lunch break and head back to work free of varicose veins and venous insufficiency!
What's the Best Treatment for Venous Insufficiency for Me?
There is no universally recommended treatment for venous insufficiency since each patient has a unique medical history and set of symptoms and preferences. Vein doctors choose between a variety of minimally invasive procedures based on the individual patient. Our vein specialists frequently recommend sclerotherapy (Varithena), radiofrequency ablation (VNUS Closure), vein adhesives (VenaSeal), and mechanochemical ablation (ClariVein).
Where Is the Best Vein Center on Long Island for CVI?
Ignoring Chronic Venous Insufficiency can be costly to your wallet and your vitality! Don't postpone a visit to the best vein clinic on Long Island. There are three excellent locations! Our Ivy-League-trained vein experts practice in West Islip, Jericho, and the Hamptons. Visit any of our premier vein clinics for rapid, gentle relief of varicose veins, spider veins, and venous insufficiency!
Long Island
Vein Specialists
Meet your Long Island NY Vein Doctor
With Harvard Trained Medical Directors, our vein clinic Long Island sources only the top spider and varicose vein experts in the country.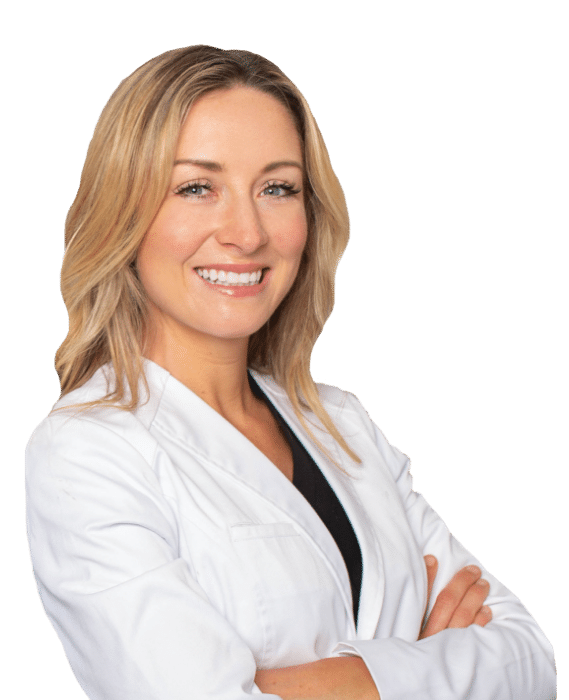 Join thousands of happy patients just like you
Vein treatments are often covered by major medical insurances, including Medicare. How do you know if your insurance will cover your vein treatment?

CALL US
Speak with one of our team members to ask any questions you may have, verify your insurance and book an appointment at your earliest convenience. (631) 305-2827

BOOK APPOINTMENT
You can give us a call at 631-305-2827 or fill out one of our forms here to request a call back; one of our team members will call you and help you verify your insurance coverage before booking your appointment.